The importance of the website design is undeniable — 75% of user judgment about the website and, therefore, business credibility is based exactly on the design of the site. Besides, it takes these judgments only 3.42 seconds to occur! That's why it is crucial to pay attention to the website design — if it doesn't impress your users at first sight, your business may simply fail.
5 Tips on Making a Modern Website design
To make your life a bit easier, we have prepared 5 recommendations on how to make a modern web design. Check them out:
1. Be minimalistic
Choose content wisely, don't overload pages with images and videos, go for a full-screen design, and use hamburger menus if necessary. They are a great solution in case your menu is large and it is impossible to shorten it.
To understand everything better, take a quick look at this site. Don't stay there for too long — your eyes may start hurting as Arngren is an amazing example of bad website design.
It is outdated and extremely messy — it is virtually impossible to navigate, as the site is full of low-quality images, buttons, links, and even animations. Being like Arngren is quite a mistake, so we recommend you to make your website minimalistic.
It is not only convenient for users — minimalism is among current design trends, so your site will also look modern and stylish. Take a look at the advantages of minimalistic websites to make sure that they are the right choice:
Minimalistic websites load much faster than complex websites overloaded with images, videos, and animations.
Minimalistic websites look more professional and credible.
Minimalistic websites are easy to navigate and use, which is important for users.
Minimalistic websites allow users to focus on the content.
Going for a minimalistic design has no disadvantages unless you create a virtually empty website with a single button hiding somewhere at the bottom of the starting page. So just be minimalistic moderately, and everything will be fine.
2. Use a video for the background header

Marketers who use videos grow revenue 49% faster than those who prefer not to deal with video content. That's pretty obvious since the video is among the most popular type of content. However, we are not here to recommend you use videos when designing your website. No, we will give you a more specific tip on how to design a modern website. Use a video for your site's background header. Such a trick is very popular nowadays, so if you want to join the modern trends, follow our recommendation.
You can also go for a fullscreen video, but in this case, make sure that it doesn't distract your users from the content. Otherwise, even the most interesting video can spoil the users' impression of your site and, therefore, affect your business.
3. Pay attention to the typography
No one will be happy to explore your content if it is hard to read. The wrong color of the font is one of the most common and obvious mistakes, but it is not the only one. Check our advice on dealing with typography in order to create a really stylish and attractive design:
Choose a font that will reflect the idea of your website. For instance, it will be illogical to use a funny font for a serious website devoted to medical research.
Choose a unique font that will help your users to easily identify you among your competitors.
The text should be readable without any problems, so choose the proper size of the font. Use different sizes for the text and headlines — this trick will improve the structure of the text and, therefore, its readability.
Use adequate line spacing — don't leave too much space between the lines, but also don't place them too close to each other.
Don't use too many different colors. It is better to focus only on several of them; otherwise, your website will turn into an irritating rainbow.
4. Use ghost buttons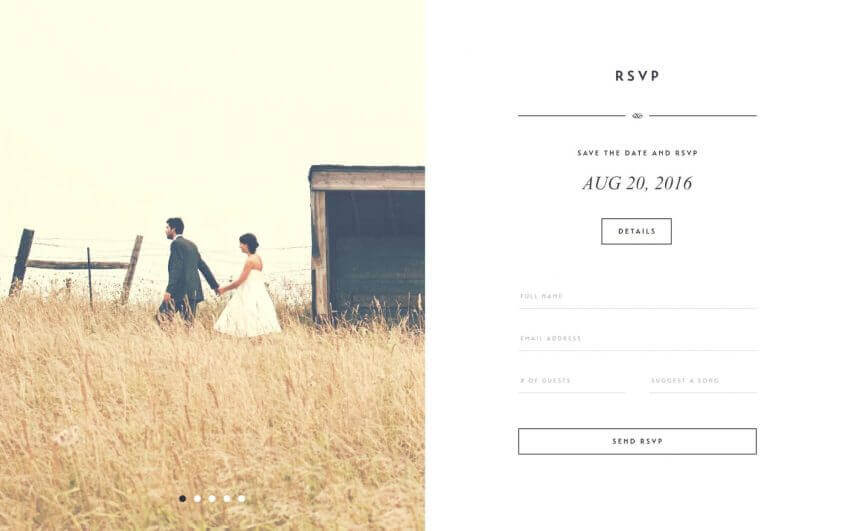 Ghost buttons have a colored border and no color fill. Such transparent buttons are among the most popular modern website design ideas, and they can be a really good choice if your site is going to have a minimalistic design. However, you have to be very careful with these buttons, as sometimes they are hard to spot. And what happens to users when they can't find a button they need? Exactly, they leave. So, here are some recommendations on using ghost buttons correctly:
The buttons must be easy to find, so place them where users expect them to be or right next to something noticeable. For instance, it would be great to place a ghost button next to a call to action.
Choose the background wisely. If there is an extremely bright picture right behind the ghost button, it may be hard for users to find it.
Use proper colors for the border and the text of the button. If you make the right choice, the button will become more noticeable and, therefore, useful.
Test your ghost buttons to make sure they work properly and look good both on the desktop and mobile devices.
5. Go for card-based web design
Card design is another popular trend, and, unlike ghost buttons, it doesn't have any disadvantages. So, each card contains an image or an icon, and a bit of text (a title of the product, basic information about it, etc.). Here are some advantages of the card design:
Cards look good on any screen, so you won't have to worry that something will go wrong with the mobile version of your site.
Cards don't contain a lot of information, so they are easy to read.
Cards are easy to navigate, which is important if you don't want to lose your users.
Cards are pretty universal — they can be used for virtually any type of content.
Cards are a great choice, you only have to design them in the right way. High-quality pictures, suitable text, and proper spacing — are the three main things to pay attention to when working on the design of the cards. Designing cards is not an easy task and you might need to polish your web designing skills to ensure the quality of your work is improving.
5 Examples of Best Modern Web Design
The list of tips for modern web design is done, so it is time to show you the most interesting examples of modern web page design. Go through them to get some inspiration.
Lettuce & Co is a company that organizes weddings, birthdays, and other events.It follows several of the recommendations on making a modern website design which we provided in the first part of the article. First of all, it is pretty minimalistic — you won't see a lot of content on the starting page — only some high-quality pictures, a bit of text, and a hamburger menu on the right side. The site is not overloaded with the content, so it is extremely easy to navigate.
Secondly, the size, colors, and type of fonts are also nice. In general, there are no problems with typography. Nothing hurts eyes here — the website looks really professional, stylish, and credible.
Brit + Co is a media company for women, and they used card design very wisely. Check their starting page — the cards are well organized, so the site doesn't look messy. On the contrary, it is very easy to navigate. The cards themselves have a simple, but very nice design and the content is very easy to read thanks to proper fonts and spacing.
Deneen Pottery creates stoneware, and its website looks great. There is a cool video header that explains what this company is about. The video doesn't distract from the content — it just perfectly fits in the site. Then, there is a pretty big ghost button, and it is very easy to find thanks to its size and location.
It is located right in front of the video, next to a colorful CTA button. The contrast between them attracts attention, so this ghost button doesn't stay unnoticed. Fonts and spacing look good, and a hamburger menu on the right side of the starting page hides plenty of links. Thanks to it, the website looks well-organized and professional.
Marmoset is all about music search, licensing, and some other things related to music. Its designers used ghost buttons, but they have a nice location and background, so users have no problems with navigation. On certain pages, they also used card design. Every card consists of a picture and a short title, and spacing between cards is okay. Moreover, there are no issues with the fonts — the content offered at this website is readable.
At Moscot you can buy a nice pair of glasses and enjoy a really stylish design. Just take a look at their site and check the fonts — they are catchy and recognizable! The same thing applies to the colors. Besides, all the links and content are well located, so there is no mess on the pages. There is no video in the header, but you still can find one on the starting page — just scroll a bit, and you will see it.
Making Modern Web Design — What Now?
So, you already know how to create a modern web design and have some nice examples to gain inspiration. But if you have any additional questions or are looking for a way to realize your brilliant idea on the best modern website design, we are looking forward to hearing from you. Get in touch with us, and we would be pleased to provide you with any essential modern web design services.
Update: