Whenever you create a website, you are going for the 'wow' effect. The same applies to a sports site. Not only should it be engaging but, from first glance, viewers should be able to tell that it is a site dedicated to sport. So, how exactly do you achieve this goal?
10 Tips on How to Make a Sports Website with Cool Design
So, you're faced with the question of how to build a sports team website? You can create a sports team website by using WordPress templates or by hiring a professional team. For example, here is a short list of how to create a website for sports teams by using WordPress:
Get affordable hosting;
Secure a domain;
Select a theme for your design;
Setup your homepage;
Customize your website.
Creating a site and a beautiful design can be challenging, Of course, it doesn't have to be a complicated process if you hire experts, but the best way to go about it is to keep things simple and unique. To simplify the process and ensure you get the best results, here are a few tips that will get you started on your project.
Tip #1: Choose a website type
Before you decide to create a sports website, you have to know the type of site you want to build. Possible options include:
Aggressive designs for sports such as basketball and wrestling;
Calm designs for golf or yoga;
Extreme designs for skiing, skateboarding, or paragliding;
Relaxed designs for table sports like chess or board games.
Identifying a sports website design for your project will be a key factor that will decide what the full design will look like. For example, if you want to create a sports team website for basketball, then you will need to use more aggressive colors such as red or dark blue.
Sports like yoga require more subtle colors to give off a relaxed feeling to visitors. Aggressive designs are also useful when you want to create a website for a sports club. It also depends on your target audience.
Tip #2: Design a website layout
Your sports site should have a professional design. For you to do this, you have to pay special attention to the layout you use. The layout should be designed in a way that content won't be clustered or placed all over the place in a disorderly manner.
A poor layout can be the reason for failure when trying to convert customers. The layout is actually the first part of a website that attracts attention from customers. If it is beautifully designed, it will motivate customers to view your resource.
To make a sports website design more interesting, you can add the parallax effect. This gives the sensation of movement and provides more depth. Plugins should be used to increase the functionality of your design, especially if you want to add additional features in the future. Key factors to focus on include:
Keep it simple;
Incorporate your logo;
Good navigation;
Consistent theme;
A proper blend of colors.
Tip #3: Choose site color schemes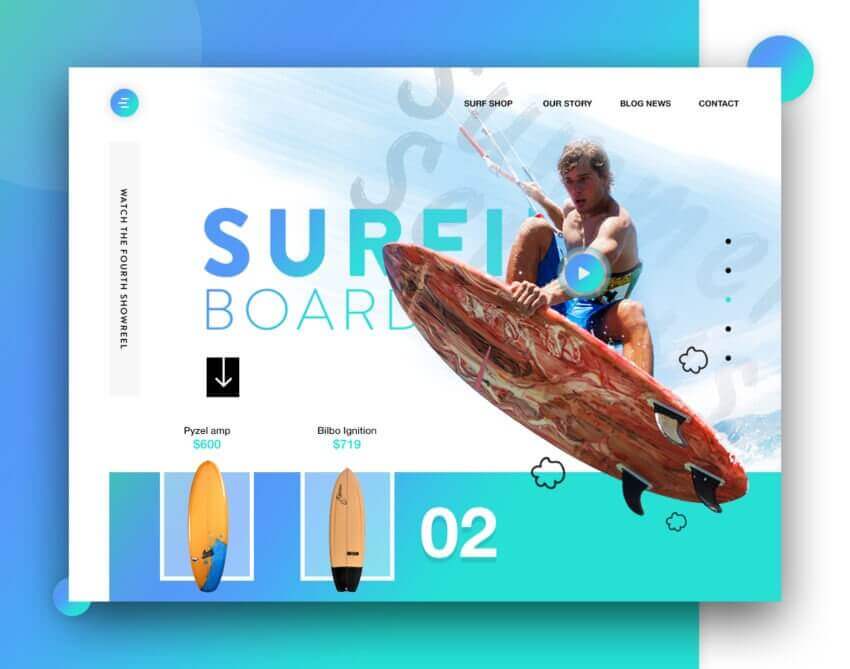 Different colors convey different messages and create different emotions in people. Depending on the theme of your site, you should pick a color that will influence people in a way that leads to customer conversion.
Dark colors usually indicate aggression, intensity, and power, while lighter shades give a sense of calmness or relaxation. Some of the best aggressive sports sites utilize various shades of red and black.
Soothing colors like light blue, green and white can be used for yoga spots. Extreme sports websites also require dark colors.
Tip #4: Avoid the wrong font
One of the mistakes that can be made when you build a sports website is the use of the wrong font. Some websites use fonts that make it difficult for people to read the content on the webpage. Because of this, people will not want to visit that particular site.
To prevent this from happening, use simple fonts. Another important reason why you should use simple fonts on your website design is so that the font doesn't divert customers' attention from the main features.
Tip #5: Find the best professional images
All pictures used should be clear and of high quality. Customer conversion is higher when pictures are used on websites, versus when they are not used. This is due to the fact that most of us respond better to what we see and to the visual effects.
Adding lots of text is not enough. If you only have text with few images (or none) that match that text, then everything becomes boring. For better engagement, add as many pictures as possible to your website. You can also add an animated background or galleries, like on the Skiwashington site.
Bear in mind, however, that adding too many pictures will make your website look unorganized and disordered. Pay close attention to the size of the images on your website.
Tip #6: Think about adding short videos
Adding short but concise videos to go with the content on your website will do you a lot of good. Sometimes, people may not have enough time to go through the whole website and, so, videos can be very helpful.
Also, depending on the theme of your site, you can add sports highlights. For example, you can add short videos from a recent basketball tournament. Aside from highlights, you can also add videos on how to get the best results in a sport.
You can also add videos to sites about yoga or pilates training. Such videos keep customers on your page for a long time, since they make the content more interesting. These videos should always be informative, but also as short as possible.
Tip #7: Create an effective call-to-action
Generally, a call-to-action is placed on sports websites to promote customer conversion. A simple way of doing this is by placing a call-to-action button at the bottom of the website. Why a button? A button will be easy for customers to see. The text used on your CTA should be clear and straight to the point.
Tip #8: Build a mobile-friendly presence
It is obvious that most people prefer browsing the internet on mobile devices, compared to desktops. So, why not use this to your advantage when you create your own sports website? After all, the goal here is to reach as many people as possible. Therefore, strive to not only make a design that can be viewed from desktops, but that is also compatible with mobile devices.
Tip #9: Add a personal touch
There are currently many sport website designs on the internet. So, when you create your own project, you have to think of how it will be different from others. Remember that the goal is not only to provide your site visitors with the content on a sport but to also keep them coming back for more.
The only way to achieve this is by creating an amazing and unique design style. Adding a personal touch will help viewers distinguish your website from your competitors. You can also create your own logo. An advantage of this is that it acts as a way for visitors to connect with your product or services. You should also use a template that allows you to customize your site design.
Tip #10: Create the best content
Your website must be very informative. Content should be presented in a way that makes it easy for people to read through. A good website design should always have blocks of readable content with appealing headers.
Additionally, content should be provided in a clear and organized way so that customers can be engaged on the site. This will definitely increase customer conversion rates.
Six Examples of Good Sports Site Designs
Now that you know the most important features of a sports website design to focus on, it should be a lot easier to create a sports website design. Below are some of the best sports websites that will give you inspiration.
The Art of Sculpting is a fitness website that utilizes great images to attract the attention of customers. The setup provides easy navigation. The site uses dark colors that convey an aggressive message to customers, and rightly so because it is a fitness sport. With such a design, it would be easy to convert visitors into customers.
The goal of this fitness website is to get people interested in fitness, and it's no surprise that it has a high customer conversion rate. Just by looking at this design you feel an urge to engage in fitness activities.
As expected, large sliding images are used. Dark colors are also used to represent an energetic and intense emotion in customers looking at the website. The model is placed in the center above the CTA, which is a great move to attract customers and encourage them to take the desired action.
With high-quality images about the resorts and brands, including videos, customers really know what to expect just by looking at this website design. Like most of the examples given, it uses different colors, though mostly dark grey and white. The colors give this site design a beautiful look that is also unique.
The copy is also easy to read since the most important parts are well organized. Another interesting feature of this website design is that there are many videos. Like images, videos make the site more interesting to customers.
The CTA is short and right to the point. With one click, it leads customers to a page where they can buy and explore the brand.
Big Slam is designed using a WordPress theme. It has large images that represent the intensity associated with basketball. The main colors used are black and red, two aggressive colors. White is also used for the font. The logo is unique and placed at the top of the website design.
Every feature of the website is placed in a neat and organized way to avoid crowding of content. The latest stories and results of basketball games are also available on this website, thereby creating more reasons for customers to stay hooked to Big Slam Basketball. The latest editions of sports gear are also available, and customers can view products just by clicking the Shop Now button.
Another great example of a good sports website is YYoga. This website design has a soothing and calming effect. The main colors used are light green and white, which is used as the background.
The design is easy to navigate, so customers don't have a hard time searching for information. The CTA button is placed on the first page of the website, encouraging customers to join YYoga. The button is green with white font, making it hard to miss.
When you open the website, the first thing that comes to mind is the layout with its large images. The images speak for the website in a sense that they provide customers with an idea of what to expect.
Spinning uses a white background with a simple black font, giving it a simple and yet distinguished look. Scrolling further down, you notice how everything is neatly organized, making it easier for customers to search for specific products.
By providing a story and customer reviews, Spinning creates an emotional link with its customers. At the bottom of the site, there is a simple CTA button that encourages customer conversion.
Suunto is a company that sells sports gear – mostly watches and compasses. To attract the attention of its customers, it's really important for the company to have a great landing page that acts as a way of converting visitors into customers.
The layout is simple but still captivating. Light colors are used to provide a relaxing experience. Sliding images provide customers with a lot of information regarding the products that Suunto sells. A section on the most recent designs and news related to products is also available. It's really a good example to explore if you are researching how to create your own website for sports.
Conclusion
Creating a sports website design doesn't have to be a complex activity. Try to keep everything simple yet unique and eye-catching. Following the above steps will lead to high customer conversion rates, which means huge success for your business. You can contact Fireart.studio for more information on how to create your own website for sports!
Update: