"Design is an opportunity to continue telling the story, not just to sum everything up" – Tate Linden.
The designer's primary mission is to help businesses tell their stories, communicate the right message to a target audience, convey a brand's mood and culture. The best way to do it is to use engaging illustrations in your marketing. 
To set a communication bridge between a brand and its audience, many companies hire professional illustration designers that help them make the marketing messages look pretty on social media and the web, in general. A beautiful online presence is crucial for business success today. And the digital illustration is an excellent way to add a pinch of style to your marketing and make it tell an exciting story that will leave nobody indifferent.
In this article, we will consider five tips on the digital illustration design crystalized by our graphic design team.
Tip #1. Analyze other illustrators' works and learn from their mistakes
The err is human. To learn from your mistakes is smart. To learn from someone else's mistakes is even smarter. It is what exactly makes you stand out of others in the crowd. Those brands are ahead of the competition who can learn from their competitors' mistakes. The same can be said of the illustration designers. 
By analyzing other illustrators' works, you will get the additional opportunity to define for yourself what you like most in the illustration and what it's better not use. It will help you shape a clear picture of what you'd like to see in your illustration and inspire you for some useful ideas that might be applied in your design.
Don't miss a chance to see how other people approach a similar design.
Tip #2. Choose an interesting composition and perspective
Use a well-balanced composition and don't experiment with the asymmetries when creating the design that aims to convey a feeling of calmness and stability. On the contrary, make a composition intentionally tilted if you want to show dynamics or tension. 
If you need to create a multidimensional composition, try to make the composition as distinctive as possible. For instance, you can make an accent on the plan at which the major characters or elements are placed.
Try to feel the rhythm of the illustration composition. You can play with tit b scaling the color and tone accents. Experiment.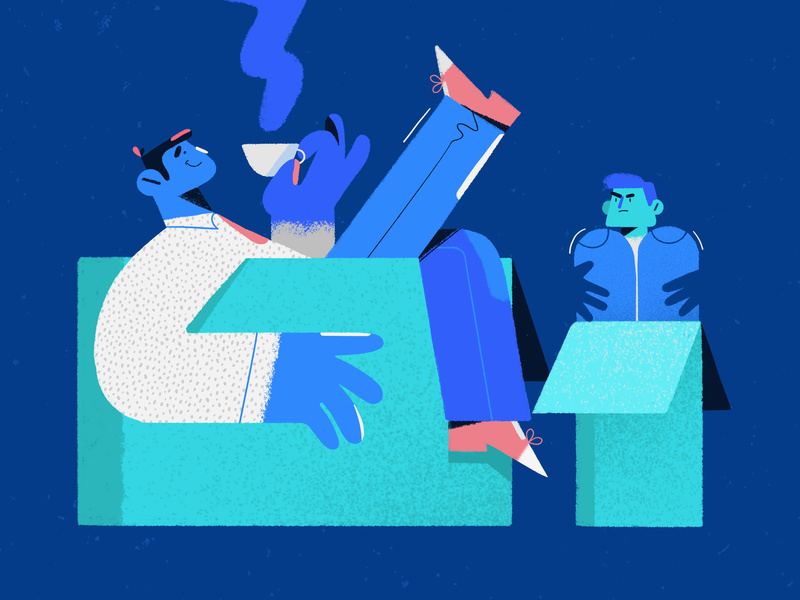 Tip #3. Use the visual metaphors that are difficult to forget
Try to display the idea that stands behind your illustration. Our main tip is not to use the image ideas that are the first to come in mind. Usually, they are broad-widen and likely, many designers have already used them before. Thus, you will not be unique. 
Take time for brainstorming, research, and design-thinking. Make your idea as strong as the aged wine. Don't hustle to start creating the illustration. Most often, effective ideas take time to fully shape themselves in your mind. 
The more eye-catching visual idea you'll take the more value the illustration will bring to your client's marketing and success.
Tip #4. Thoroughly choose the color palette
We are visual creatures. The first thing we perceive is color. Thus, to make the right choice on the color palette is crucial for the illustration effectiveness and success. 
The color can emphasize the illustration mood and strengthen its main idea. Keep in mind that contrasting colors always create real magic of visual perception in design. Using the tone contrast in your composition, check the correctness of the tones you have chosen for. A good practice is to view the picture in black-and-white mode, it will surely help you understand if the illustration is contrast enough and well-read.
Tip #5. Apply interesting textures in the illustration
Applying different textures in a flat design, you can add a specific feeling of an experiment and a particular style to your digital illustration. The textures can imitate various physical materials likes wood, stone, or even grass and water. They can also look like the rows of lines, dots, stripes, and other geometric shapes. This kind of textures is especially famous in the illustration design today. 
In addition, colored photos and full-color patterns may be used to create the effect of applique work. To express your unique illustration style, you can combine different textures and experiment with the most uncombined ones.
Conclusion
Start with a clear idea or concept in mind and get inspired by the existing artworks and design approached. Learn to steal like an artist. Observe and translate complex elements into basic geometric shapes you can work from – keep it simple. Have fun creating your own illustrations!
Hopefully, the above-mentioned illustration design practices will help you create your own custom illustrations that communicate the right message to the right people and bring success to your clients.