In this article, you will learn how to create high-converting landing pages to increase the level of sales in your online store and get acquainted with successful examples of such sites.
If you are familiar with the basics of Internet marketing, then you know that creating landing pages that convert is a must for any type of business. In fact, landing is a single page (which, by the way, can exist along with the main website). Unlike traditional websites with many sections and pages, landings exist to motivate visitors to a single action (this can be purchasing goods or services, transition to the main site or filling a registration form).
However, not all landing pages are able to increase conversions. This may be due to an incorrect approach or low professional skills of the web developers and internet marketers who built it. The screenshot below showcases a typical example of substandard landing:
How should a visitor understand what element of the page they are expected to interact with? What problem does the owner of this landing offer to solve and why are there so many fields to fill? Literally every element here distracts attention from call-to-action (CTA).
Do you want to know the modern approach to creating a sales page that converts? Or, perhaps, you want samples of successful landings? Great! Then this article is for you!
How to Create a High-converting Landing Page: AIDA Principles
Have you ever heard of the AIDA marketing formula? In essence, this methodology represents the four main stages that the development team must follow when creating highly converting landing pages:
– A (awareness) – after the user gets to your site, they immediately must understand, what type of content is placed there and what kinds of tasks it is intended to solve;
– I (interest) – placed content should attract the user's interest (this is supported by high-quality, informative pictures, descriptions of goods and services, as well as thematic articles);
– D (desire) – if the content that interests the user solves at least one actual problem for them, it will spark a desire to buy;
– A (action) – the user should be able to satisfy the perceived desire in the shortest possible time (it is necessary to place the buttons and forms for this procedure, understandably and simply).
In general, this is a rather abstract formula. Therefore, there are a lot of examples in which it is implemented both successfully and simply.
How to Create a High-converting Landing Page: Four Incredibly Cool Recommendations
Below we provide four recommendations for the creation of a landing page guaranteed to increase the conversion in your online store.
1. Suggest a Solution to a Specific Problem
As you may already understand, any landing page must be first and foremost directed at solving problems (one, at least). For example, you have created an online store of hair care products. What message should your page carry in such a case? It is quite logical to highlight problems of dry, stringy, greasy, damaged, droopy or any other kind of unhealthy hair conditions in the form of pictures and/or text and indicate the means to fix them, offered by you.
The more useful information you can provide without overloading the viewers' perception, the greater the conversion. Does an offered remedy contain a white truffle extract? Well, you can position it as a component of hair nutrition (and it does not matter that each bottle contains a drop of the extract at best). It is very important here to fully understand who your target audience is and what they expect from the product. Let us provide a counterexample. If you are a supplier of premium cars, your target audience will not appreciate the slogan like: "Are you bored with public transport? We have a solution!"
In fact, identifying the "weaknesses" and "pain points" of your potential clients is a very difficult task. To solve it, customer representations or portraits are compiled. These are lists of the personal characteristics of a statistically average buyer, who may be interested in your products or services. The more portraits, the better. The more characteristics described in these portraits, the better. Launch the landing after thorough research; you will realize how justified your time and efforts were.
2. Provide a User-friendly and Attractive Design
"What makes a great landing page?" Here we definitely should mention its design. Let's be honest: this is a sizeable topic which can be discussed endlessly. Creating a professional design of a landing page is a long and tedious process; each stage of which is directly related to the specifics of the niche your business belongs to. Let us try to briefly outline its main points.
– Remove everything excessive and unrelated to the main task. The first thing you need to realize: landing is a website consisting of a single homepage. Any "superfluous" link on the page can distract the attention of potential customers and become a serious obstacle to increasing the conversion of your online store. But this is not all. Overload with animations, bright graphics, and text blocks also can drive visitors into a stupor (recall the unfortunate example, provided above, or check the one below).
– Present only one product or service. The second, no less important factor will be the acceptance of the fact that landing can help to sell/promote only one(!) product/service. Do not try to squeeze in half of your online store. After all, the more choice the client has, the less likely they will purchase anything at all.
– Be mindful of the number of CTA buttons/fields. Ask yourself the question: "Will there be only one CTA button at my landing?" It is relevant, above all, for those who are not just aiming to increase sales of their product or service but also to expand their client base. In this case, a separate button should be assigned for each task. In particular, one of them may be intended to start the procedure of the registration at your site and the second one – to order directly.
– Employ counters. The counter on the site may indicate the number of goods in the stock or time left before the end of a special offer. After all, according to the basic principles of human psychology, haste (even if created artificially) motivates people to make decisions like nothing else.
– Connect the live chat. Give your customers the opportunity to clarify some information they need online. To do this, live chats are created, in which standard questions are answered by a connected chatbot and real employees of your company participate in the resolution of specific and complex issues. Nevertheless, such support chats are not a replacement for a detailed Frequently Asked Question document. This is just a useful addition, which will increase the level of trust in the business.
– Share the positive experiences of your customers. A good way of building any landing is to display feedback from real customers. It should not be verbose or extremely enthusiastic. Otherwise, such a method will have the opposite effect. Your customers will understand that the reviews are fictional and lose trust in your business.
– Shorten the way to pressing the CTA button. Make sure that the header of your site is fixed and place the CTA button in it, making it accessible to visitors all the time. Also, if there is any form present, make sure that the number of fields that the user needs to fill is minimal (one of the best practices in filling some lines with the default values). Today there are a lot of templates for landings. If you choose to use a template, make sure that it can be customized (allows changing the layouts, at least), so that the final structure of the site does not lose its uniqueness.
– Carefully consider the appearance of the page. As for the appearance of the site itself, most marketers of the latest generation unanimously insist on: minimalism, usage of contrasts, the predominance of graphics over text content, emphasizing the key elements, and the use of pointers (for example, arrows that point to the CTA button).
3. Offer Something for Free
Do you want to win the trust and favor of the visitors of your landing? It is quite simple to do this – offer them something relevant and really useful. Free of charge.
The effectiveness of this strategy is eloquently evidenced by the success of the American cosmetic brand Estee Lauder, which has held the leading position in the beauty industry since 1946. Its founder, Mrs. Lauder, decided to offer her potential customers free samples of products, so that before buying they could independently verify the effectiveness of different treatments. The result of such a marketing method was stunning. This is understandable – similar ideas were never before implemented (at least, it was not documented). As a result, the Estee Lauder brand has been immortalized in the history of world business.
With services, everything is somewhat simpler. If in the case of releasing the trial product some capital investments are still needed; their cost, as a rule, would be further included in the cost of mass-produced merchandise. In the situation with services, you may not need anything at all. For example, you can offer visitors to your website a free session so they may make sure of your professionalism (or the professionalism of your employees). This technique is often practiced by businesses, lifestyle and fitness coaches. In particular, with the help of an introductory lesson or training session, customers gain confidence and become interested. It is the best possible way to motivate people to purchase the full course.
4. Take Care of the Content Quality
Content is a key element that will either attract customers to purchase your product or service or vice versa – it will scare them off. That is why it is necessary to approach it very sensibly.
The first thing you need to make sure of is its uniqueness. No serious business "steals" images and texts from other businesses and, it should be noted, your potential clients understand this on a subconscious level. Therefore, if a picture from the old advertising campaign of Head & Shoulders is seen on your landing page selling a professional shampoo with an innovative formula; do not expect that it will remain unnoticed. Therefore, become a regular at media stocks. The pictures there are not so expensive (or rather, are quite cheap) but the result will justify itself fully.
The other extreme, to which some inexperienced or tight-fisted web developers gravitate, is using pictures from free stocks. As a rule, they look extremely plain (in 9 out of 10 cases they display ridiculously smiling people who are photographed against some colorful landscape), and certainly do not add points to the status and reliability of the commercial site.
Now let us discuss the text component of your site. Of course, the limits of the single page does not allow for a lot of fantasy, but even those crumbs should not be borrowed from other sites (even if you are a supplier and information is taken from the manufacturer's website; in this case, please indicate the quotes clearly).
When creating text, forget about SEO in the sense that we are all used to. It is 2018, and the search engines have become extremely human-oriented. This means that now you do not have to literally "stuff" the text of your landing with keywords. Let the texts be useful to readers. In particular, experts recommend employing the LSI copywriting methodology, which is becoming more and more popular and effective in internet marketing.
Last but not least, do not skimp on the salary of marketers who will write headlines and slogans for CTAs. A person with inadequate experience will not only create an ineffective appeal but also risks putting you completely off in the eyes of potential clients (let us recall the well-known textbook example – the epically failed slogan of the world-famous McDonald's fast-food chain – "Lovin' beats hatin'").
How to Make a Great Landing Page: Getting Acquainted with Five Examples of High-converting Landing Pages
Now let us move from theory to practice and get acquainted with five successful examples of high converting landing pages.
Our first is the absolutely stunning landing page of the Muzzle application for macOS, which disables screen notifications. The first thing that catches the eye is the neat minimalism. A soft color palette pleases the eye. Funny icons, despite their small size and missing details, quite informatively convey the purpose of the app. The second thing to note is animation, it is not provocative (we all remember the well-known "red ants" animation supplied in Microsoft Word), but it awakens genuine interest in the minds of visitors. Finally, and most important, is a clear demonstration of the problem, for the solution of which visitors came to this landing.
It would be surprising if the owner of a site dedicated to the crypto-currency – one of the most hyped topics on the internet – would create a poorly constructed and ineffectual landing page. In particular, we can praise Coinbase for demonstrating the analytical data, as well as a description of the mechanisms of network security in their system. The color scheme on the landing is also flawless. The shades of blue in combination with white on a subconscious level inspire the perception of confidence and transparency.
And here is a typical landing for the promotion of goods. A short quote from the presented work, a quality photo of the product itself, a creative title and a bright button with CTA – what else is needed to make a book a bestseller?
Are you surprised that Microsoft got into our top 5? These guys hire real marketing gods. Everything here is impressive: a compressed but informative text that describes the main provisions of the webinar, a short form for registration, a vivid picture, literally "screaming" about the high-tech of everything that the website promotes, and, like a cherry on the cake, the official photo of one of the keynote speaker; Jerry Lee, we all have the confidence in your competence!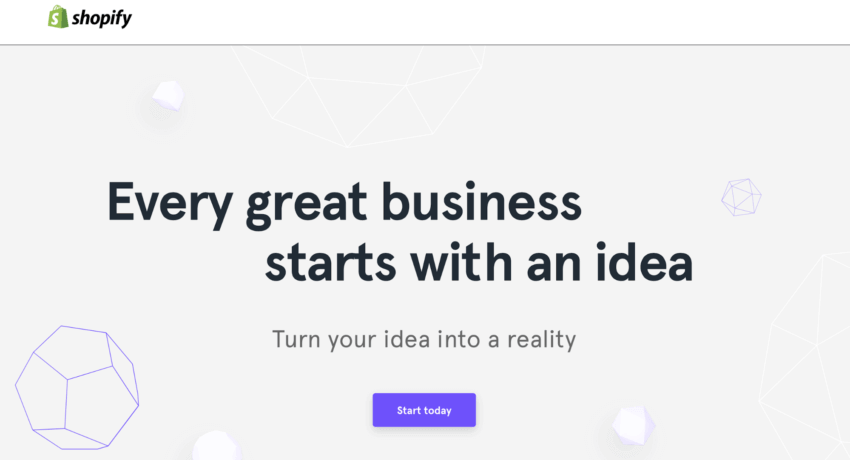 And we close our list with Shopify's landing. Like most modern solutions, it is minimalistic; which does not hinder the goals set by its creators. Just look at the button with the CTA – it is simply perfect. Firstly, its color is quite contrasting to other elements (but not so contrasting as to "cut" the eyes). Secondly, it has the coercive word "today" that softly motivates the visitor to accept the offer.
Are are you inspired? We very much hope that our instructions and illustrations will help you in this difficult process of creating your own landing page.
How to Create a Landing Page that Converts: Summary
As you can see, in order to create high converting eCommerce landing pages, a knowledge of the basics of internet marketing is not enough. This is a comprehensive process. In each particular case, it involves taking into account many of the nuances and character of the specific business niche. That is why it is better to entrust making such web pages to professionals to get a guaranteed positive result. Do you need a landing for your project? We are ready to take up your project! Contact us and we will be pleased to discuss the details of further cooperation.
Update: