Until recently, the only thing that website designers thought about was creating a webpage that would look good only on a computer. A few other devices could be included, but there wasn't really any diversity in web design.
This changed due to the development of the mobile devices industry. The last decade or so has shown a rise in the variety of mobile devices. This has led to the fact that many website designers have now started to look for ways to make a particular website adaptable to any screen size. This is the main goal of responsive website design.
What is the main purpose of website responsive design?
Before we can proceed to identify the best possible practices in web responsive design, we have to understand what it is. Put into very simple terms, website responsive design is a route taken by modern web designers to create a website with a content layout that can adapt to any screen size.
This term was initially coined by Ethan Marcotte who stated that web responsive design consisted of three distinct parts. These are:
A fluid grid,
Fluid images, and
Media queries.
This is just a simple description of what web responsive design is. Every web designer must have enough knowledge of this concept, to a degree. This will enable them to develop their capabilities in the ever-changing field of web design.
How to design a responsive website
We can safely conclude that designing websites for desktop screens is only an ancient practice. This is because of the constant launching of various devices, causing developers to look for other ways to make web displays work for all devices.
This has proven to be very helpful because the average individual spends more of their time browsing on a mobile device such as a smartphone or tablet than they do on their computer. When it comes to creating a responsive design for a website, knowing what you are doing is very important. Here are some tips for responsive web design.
Always plan for a small and a large display
As we have already established, mobile phones and other portable devices are the most used platforms for internet browsing. Web designers have obviously noticed this, which is what has led them to put in more effort in improving the display for small devices. This is where the problem lies.
One thing that designers tend to forget when they design a responsive website is the fact that it should include larger displays, as well. Therefore, designing responsive websites has proved its importance in larger devices, too.
Although statistics show that most internet traffic comes from mobile devices, many individuals switch devices throughout the day. This means that it is wise to assume that an individual with a mobile device also has access to a computer.
This should be taken very seriously because, no matter the device, the user prefers to access the internet and their expectations still remain the same.
So, what is the best approach?
Every website designer should consider small displays first.
They can look up various trends and incorporate them into their design to make it marketable.
After making sure they have everything related to small displays covered, they can then proceed to larger displays.
Never forget about context
One of the best tips for responsive web design is to always consider the context. Many designers tend to pay more attention to fitting a website on various displays, and they forget about the actual context of the website.
In this case, fitting the website to any screen size only accomplishes one thing. The content, which is usually arranged in columns, will simply be broken down into more columns depending on the display size.
Why is this impractical? When designing a website, adding as much information to it is very important (but, only valuable information). This will be important because, in the end, you expect your website to perform in the role it was created for.
Therefore, every designer should try to abandon the idea of only adding particular information to the website. For example, instead of providing only directions to a particular store, add more information that you think a website user expects to find.
Deleting certain features
A great designer knows when they have enough going on. Yes, this point can contradict the one previously mentioned but, sometimes, it is important to remember that too much information can be bad.
So, how do you make sure you don't end up with a mess on your hands? By deleting or excluding some features in your final product. Great responsive web design gives the web users just what they are looking for. This means that all content should be properly analyzed before making it into the final cut.
Designers are expected to be bold when it comes to what stays and what has to be removed and, even after removing some components of the website, you should always ask yourself if anything else can be deleted before deciding it is your final product.
Content has to be prioritized differently
Many responsive websites share one particular trait. They all show multiple columns on devices with larger screens and a single column on small mobile devices.
When it comes to layouts, however, it is not only columns that are affected. Special approaches need to be taken when dealing with other features of your website, as we will highlight. The best example of a different website feature that requires a unique layout approach is an article teaser. It is not that some teasers are not effective on certain screen sizes, but they have to be modified to be that way.
Article teasers adapted for larger displays have the following information:
An editorial picture,
The author's picture,
Title of the article,
Author's name, and
Date of the article's publication.
That is usually the case for larger displays that have a lot of free space. When it comes to smaller displays, some of the features, such as the editorial picture, become irrelevant; however, this change does not affect the overall effectiveness of the article's teaser when viewed from devices with smaller screens.
Navigation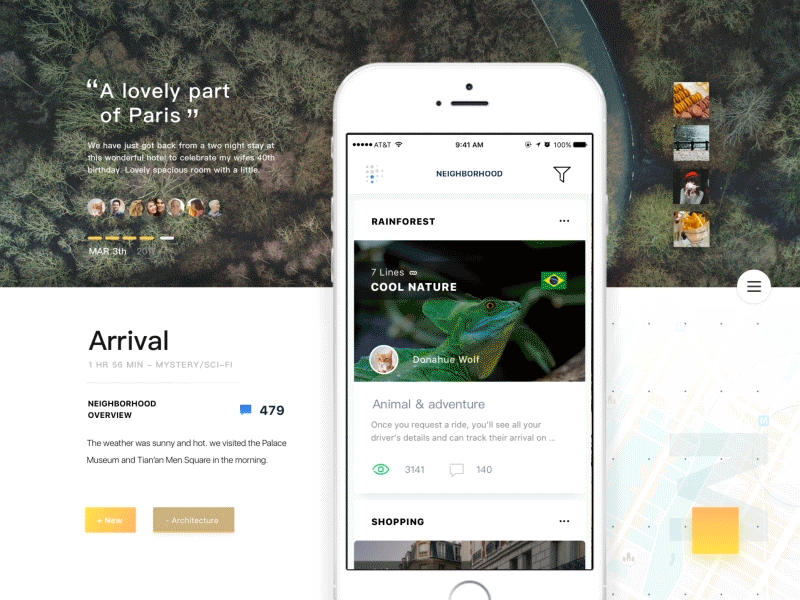 Designing the navigation of a website responsively is one of the most difficult parts of web design. This is usually the scenario for designers who want to create a website that comes with very large and profound menus.
What makes navigation difficult to get right? In most cases, designers who did not put enough work into navigation usually have it break down on devices with smaller displays.
The main point when it comes to designing navigation is to forget about consistency on multiple devices. You should prioritize the creation of the most user-friendly navigation possible, which might mean creating an interface where navigation is unique for every screen size.
Many individuals may question the issue of consistency. Although it sounds kind of controversial, there is a certain amount of truth to it. Here is how consistency fits in responsive web design.
Certain components of your navigation need to be as consistent as possible. Every screen size must have them. These include features like:
Links,
Types of fonts,
The main color pattern,
Icons, and others.
So where should the consistency differ? The navigation layout and its particular functions, of course. For instance, fly-out menus. These features of websites work best on desktops and other devices that require the user to use a mouse.
Adding these to touchscreen devices will not work at all. Therefore, these mobile devices will require their own navigation design. In such circumstances, designers must make the usability very similar, but individuals should be able to tell certain differences between navigation on small devices to that on large devices.
The battle between the download speed and the quality of the image
When it comes to the size of a webpage, the biggest contributors are the added images. Together with other content that can be found on a webpage, the average can be as big as 2.1 megabytes.
Many websites are beginning to use more and more images. The use of large images that span the whole screen is becoming a trend and it seems like it will only get more traction.
Great visuals have been used to impress users when they visit the website. They are the first thing that they see, and so it is natural for web designers to go all out on the images they add to the website they are creating; however, this should not always have to be the case. Although images are very important, there has to be a balance between them and the other content on the webpage. Images should also undergo the process of deletion. After you have added all the images to the webpage, ask yourself if some of them will be necessary to have an impact on a visitor's experience.
If the answer to some of those images is no, proceed to delete them from the webpage. Keep deleting the images until you are sure that the remaining will be significant enough for the visitors.
Nowadays, designers have a tendency to overuse the homepage carousel. This feature requires multiple large images. In addition, it demands the use of JavaScript, which is used for animation purposes.
So, how do you avoid making the use of all those components and save a lot of space (about 75% of it)? The goal here is to avoid using multiple images on the carousel and stick to the use of one static image. At the end of this process, make sure you carefully look at the remaining images to make sure that they are just right.
When to use icons and what is the best font you can choose?
Icons can be the most misused components of a webpage. Yes, web designers make some mistakes when it comes to the use of icons, and this should be avoided. This is usually the case because icons can have amazing effects on the webpage, they just have to be used smartly.
The SVG file format is commonly used to deliver icons to a website. These types of graphics work well on all screen sizes because they do not have to be resized or readjusted. CSS can also be used to animate SVG. This practice will add a lot of character to the design without making it feel too artificial, leading to some unwanted effects on the website. The main drawback of SVG is that some browsers cannot support it and, for these, it is important to find fallback support.
Font size and type is also an important issue that needs to be tackled before you can release your final product to the public. Moreover, when designing the typography of a website, make sure the selection you use will look great on any screen size.
Input menus
The final part of the design process is finding the right input menu for every device. The main classification you can use is by means of navigation. For example, desktop users navigate to your webpage with a mouse, while smartphone users use the touchscreen.
For individuals using the touch screen, adding the right sized buttons is important. Make sure user input is as generous as possible, in order to create a great user experience.
Test your design on various devices
To conclude, when you have your prototype, make sure you put it through a series of tests on multiple devices to see how it is responded to by these devices. Using actual users is recommended.
After this, you can then proceed to launch the website or make more changes to it if you are not pleased with the end result.
The points described above are some of the most important responsive design tips and tricks and can work well for any web designer.
At Fireart Studio, we specialize in providing solutions for problems encountered in responsive web design. We are dedicated to finishing every single project with the best possible results!
Update: