Designing a real estate website requires much more effort than simply creating several filters and a search bar, and then adding pictures of houses, apartments, and cottages. A really successful and, therefore, profitable real estate website should have a careful strategy behind. To make your life easier, we prepared some useful tips and tricks on how to design a real estate website. Keep reading to discover all of them and to learn how to turn your website into a really amazing portal.
Real Estate Website Design: Tips and Tricks
There is more than enough advice on the Internet regarding colors, background, and other things like that. But we have prepared a list of recommendations which people don't usually think about. So, here they are.
1. Use long-tail keywords
Choosing the right keywords is essential for any website design, but when it comes to website design for real estate, we highly recommend you use long-tail keywords. What are they? Well, a long tail keyword usually consists of three or four words. Such keywords are very specific, so they may get fewer searches. However, those searchers who used them are more likely to convert, as they will find exactly the information they were in search of.
Let us give you an example. You use a keyword "rent apartment". First of all, your website will simply get lost among other search results. Secondly, it may not even meet all the needs of a searcher! But if a keyword is something like "rent apartment London short-term", you will have much higher chances of getting a client. So, be more specific and use long-tail keywords when working on your content.
2. Add video testimonials from your previous clients
Renting an apartment or house is a serious thing to do, and selling or buying real estate is a much more complicated step! It requires signing a lot of documents and involves large amounts of money. That's why people tend to be very careful when choosing a real estate website. However, there is a reliable way to build credibility — equip your website with video testimonials from your previous clients.
It would be great to make those videos in those apartments or houses which the clients rented, sold, or bought — this trick will work as extra proof that the testimonials are provided by real people. And if renting, such a video can be even more efficient than loads of pictures of the apartment. Try to get testimonials from different clients: families, individuals, couples, etc. Create a YouTube channel for your real estate agency, upload all the testimonials there, and then add them to your website. You can also post some of them on your accounts on social networks.
3. Get a live chat
Again, real estate is a pretty complicated sphere, so some people (especially those who are likely to become your clients) may want to ask extra questions or at least to schedule a meeting with an agent. Obviously, it is essential to provide users with all the contact details: email address links to accounts on social networks, phone numbers, etc. But live chat is one of the most convenient ways of getting in touch, so we recommend you add it to your real estate website.
It would be amazing if the live chat support agents could provide help 24 hours a day, 7 days a week. If it is not possible, offer help from 8 a.m. to 10 p.m. Such a timetable will cover the working schedule of most people, and several evening hours, which will be convenient for those users who have no time to chat during their working day.
Here is another tip — make your live chat as simple to use as possible. Don't ask users to provide numerous details before asking for help. A name and an email address are the maxima. Additionally, the chat, just like any other contact information, must be easy to find.
4. Create custom search buttons and filters
You are working on a custom real estate web design, right? Then you need to make it different from other real estate websites! Crazy colors and flashy animations are not the best choices here — your website is devoted to a serious enterprise. Instead, we recommend you design stylish and useful search buttons. In this way, you will make your website look more interesting, and simplify the navigation.
Here are several search buttons you may want to use: "Rent", "Buy", "Sell", and "Estimate". Also, a search bar for entering city or district is a must. For renting and buying, you should also add filters on price, floor space, number of rooms, floor, etc. But don't show all these filters at once — let them become available only after a user clicks a button. Otherwise, the website will look overloaded.
So, if you design these buttons and filters in a special way, your website will attract more attention than those portals which preferred a standard layout. A few nice examples will be provided a bit later, don't worry!
5. Develop neighborhood guides
Regardless of your company's location, you can still get clients from all over the world. Thus, it is important not only to provide all the information about the real estate offered on your site but also to tell users more about your city or country. We recommend creating neighborhood guides which will inform your potential clients about the neighborhoods' infrastructure, crime level, and other important things.
Don't make people look for this information on their own — prepare all the important details for them! This trick will help to build credibility and attract new users — most of them would choose your website instead of the one which offers a house in a dangerous area and says nothing about it.
Best Real Estate Website Design: Top Examples
Now, it is time to show you some cool examples of what web design for real estate should look like.
At Wannebo Real Estate Group, users can buy and sell the property. The site follows several of our recommendations. First of all, here you will find both video and written testimonials, and there are a lot of them! This trick helps potential clients to understand that the company has nothing to hide and that they can entrust it with their real estate. There are also videos telling the company's success stories, which is important as well.
Secondly, the website has a live chat! We checked a lot of real estate sites, and only several of them offered this option. So, consider adding such a feature to your own portal — it will help you to stand out from the crowd, just like it helps Wannebo Real Estate Group.
When we were talking about custom real estate website design, we mentioned creating unusual buttons, and that's exactly what Zillow did. Just look at their website — they have 'Buy', "Rent", "Sell", and "Zestimate" buttons! What is "Zestimate"? Such a word doesn't exist, but this is how Zillow presented the word "estimate" using its own brand. Apart from this, the website is easy to use, as its navigation is extremely convenient and simple.
The buttons of Redfin are not as custom as those you saw on the Zillow website, but there are numerous useful filters hiding behind them. They are only for buying real estate, and you won't find them on the starting page — they will become available only after you enter a location. The filters include a number of beds, number of baths, year of construction, and so on. Take a look at them to get some inspiration when you are working on filters for your own website.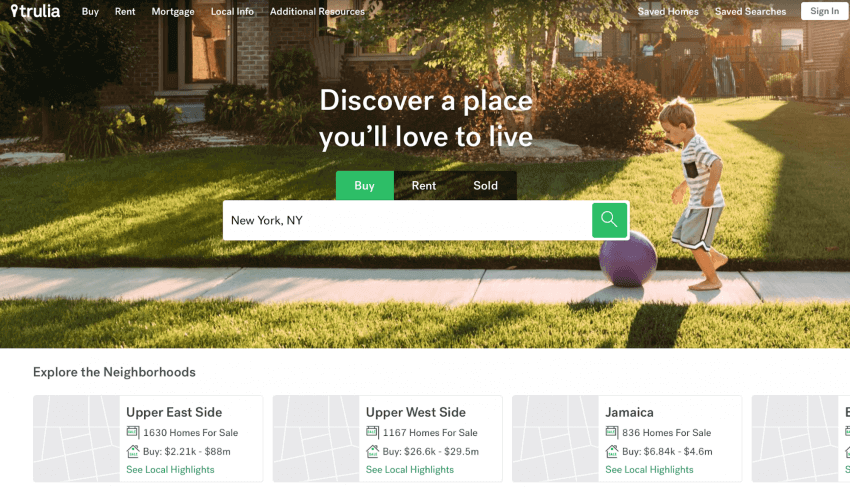 Trulia did a really great job in terms of neighborhood guides — here you can find detailed crime statistics, information about schools (with reviews!), demographic statistics of different cities, and other important details. Besides, there are a lot of filters you can use when looking for the property of your dreams.
Apartments.com was very creative when designing filters — they look like nice high-quality pictures, and you can see them right on the starting page. Just click one of them, and you will see apartments equipped with a dishwasher. Try the other one, and only pet-friendly apartments will become available. And so on… Afterward, even more, filters are offered: price, number of beds, etc. By the way, some apartments can be explored with video or even a 3D tour.
Real Estate Web Design: What Now?
We have told you a lot of interesting and useful things about professional real estate website design, so now you can use them to create a really cool and trustworthy site. However, if you still have questions or simply need real estate web design services, you are welcome to contact us. We would be glad to consult with you and help you turn your idea into reality.
Update: