Meeting someone special is usually on the list of goals for just about every person in the world. We all want to love and to be special for someone. However, in our modern world of constant movement and always being in a hurry it gets a bit hard to slow down and spend quality time searching for the right person.
That is when online dating applications become essential for a modern person. It's been a while since official reports proved that more and more people start dating online. Since that time people have become busier and busier with all the activities available and the speed of modern life.
One of the essential factors of success is dating application design. Thus, if you're going to start building a matchmaking application from scratch, we recommend paying attention to the practices presented here. It's better to have a professional app designer on the team. However, you can also try to design things by yourself. Once you have an initial idea, it might be easy for you to imagine how it should look to be the most successful.
This tutorial offers you tips to help you design a dating app and make it top-notch. Although we offer some mobile dating app templates and examples here, of course, there are no universal recipes and uniqueness is more of a key to success than similarity to the market leaders. Though some trends can be used to your benefit as they are more like guidelines.
Tips to design a dating app more effectively
When it comes to asking the question of how to design a dating app, the best answer would be to start from a blank page. However, there are many Android dating app templates and iOS dating app templates that can be used as a starting point, too. No matter what option you opt for, just make sure to follow the next proven design practices. Hopefully, you will find them helpful.
1. Think mobile and do mobile
Many brands consider websites as the first priority, not mobile apps. However, when it goes about the matchmaking industry, it is quite the opposite. Most people prefer using dating apps on their mobile devices as it's fast and convenient. iOS and Android platforms are the primary bases where mobile applications have to feel flawless.
It's recommended to think mobile-first when creating a mockup for the dating application design. Consider how people use their mobile devices and use this as a starting point. The main goal and idea is to address the target user needs and make sure that nothing distracts from the main purpose of using the app. There are several practices to draw attention to specific features, like smart matchmaking or create flexible options for follow up messages.
2. Make navigation ever more pleasant
Dating apps usually have no as rich functionality as other applications. Users utilize them in very specific cases, and as a dating app designer, you should create the user experience design around the primary goal. The fewer movements your users need to do in order to get what they need, the better. The best option is to develop your app in such a way that only one finger can solve all the tasks. It means that the app navigation needs a very neat approach.
Looking at all the different dating apps on the current market, you may notice that most of their navigations are at the bottom and well-visible when people are doing the primary activities like browsing different profiles.
Graphic icons can also be used for navigation implementation. Your main task, as the designer, is to motivate users to click on the icon by making it look appealing. Just make sure not to overload the page with icons. There have to be at least three options to click on; otherwise, the entire UI might be confusing.
3. Work on your texts from the start
Great user interface design should perform the primary function first of all: it should deliver absolute convenience of interaction with the application. This means that design and texts should be well balanced. Nobody wants to read long pages with descriptions. At the same time, users want a clear understanding of what they should do to reach their goals. Try utilizing text in the UI design in such a way that it will feel like an ideal match. Icons and pictures will help a lot.
For example, many dating applications are very intuitive and only show users pictures of potential candidates without any extra words. At the same time, they all have very obvious ways of showing more information both about the candidate and the app itself.
Another possible option is to give people advice on how to actually choose the best fit. There are many blogs and researches on this topic, but all of them tell about the necessity of going somewhere else. If you discover a way to implement this information right into your app without overloading it, it might be something really fresh.
4. Choice of colors is important for the right mood
A dating app refers to a totally emotional experience. It means that it should be appealing to feelings, not to logic. And selecting the right color palette is extremely important.
The main purpose of your app is likely to provide somebody with pleasant and passionate relationships. That's why a red color can be a good option. If you provide effective match-building algorithms to enable people to set healthy and trust-based relationships, you can use green color as your main one.
Also, remember that overloading is never a good idea. Another trend is minimalism. Of course, you shouldn't restrict your design to white-n-black. However, ensure you are not overdoing it by using too many colors.
5. Communicate more
Sometimes it's hard to take the first step. Saying the first "hello" might be challenging for many people. Once it's written and sent, things go better. To enable your target users to start their own communication, first, you should talk to them. There are many options for that:
Push notifications

Personal letters

Popups with advice

Reminders

Hello bars

Personal assistant notes
Whatever you choose, make sure you test it before launching. It's always safer to do it with actual users to find out what is useful and what is annoying. For instance, updates and notifications might appear to be very annoying. However, they might also be very helpful at the same time, but distract the user from something else important. In other words, if you create a good app and remind users you're there for them, your app might become the next market star.
6.
Create a memorable logo
Logotype design is crucial for mobile apps, and we should pay special attention to it. People tend to remember icons better than words, so it's always good to have a small image incorporating all your company ideas. It is as important for dating apps, as for any other businesses.
There are many dating apps that you definitely recognize by their logos. There are also many stories about them. Some people think of Tinder as a place to find love for "one night". Somebody may have a different experience, though the main thing here is that people recognize logos. Non-recognizable apps might have a way shorter history than their developers would like them to have.
7. Make it a cool game to play
Today, gamification is one of the most important and engaging features of dating applications. People stopped taking it seriously; they just browse and swipe. What Tinder started a while ago, seems to be an amazing approach for people who otherwise feel too shy or too intimidated by the process.
Start it as a game, and see where it takes you – that sounds like the main motto of such applications nowadays. However, there are other ways to attract people and make them want to play.
There are many dating app design templates that provide you with some idea of how to turn the whole process into a fun game. For instance, you can invite people to a pattern where they are rewarded after:
Logging into the app

Creating a profile with three pictures

Telling a story about themselves

Rating at least five other profiles

Sending at least three personal messages
Come up with a system of rewards that will correlate with the design and interest of your target audience. Obviously, the interests of different age groups vary. It might not be easy to create new gaming patterns, however, the results are usually worth it.
Examples of great dating app design with dating app templates
Here are several examples of successful dating app designs that can arouse your inspiration and help you take the first step on the way to making your perfect mockup. Remember that uniqueness is the key to success in a bit overloaded world, but also consider the strengths and weaknesses of your potential competition.
The logo of this app is familiar to thousands of people around the world. Some people like it and utilize it for a while, while others just try it once. Though the minimalistic design of this dating app has changed the face of all industries. It is worth viewing as an example of beautiful UI and convenient UX design.
This dating application is less photo-oriented, but more personality-centered. All the pictures are blurred until a particular number of messages have been sent between two people. Check how it influenced the design.
The attractive combination of orange and purple literally breathes with freshness and is quite innovative for a dating market. It doesn't awake passion but builds trust instead. Another fresh idea of this dating app is that there is a section where the user can look for celebrity lookalikes. A bunch of small round pictures with lucrative faces rarely leaves users indifferent.
Here comes another purple-based design for a dating app. This application is connected to LinkedIn, which makes it feel somewhat more serious than many others. Cold colors in the palette also make users think of something more serious than classic dating bright red.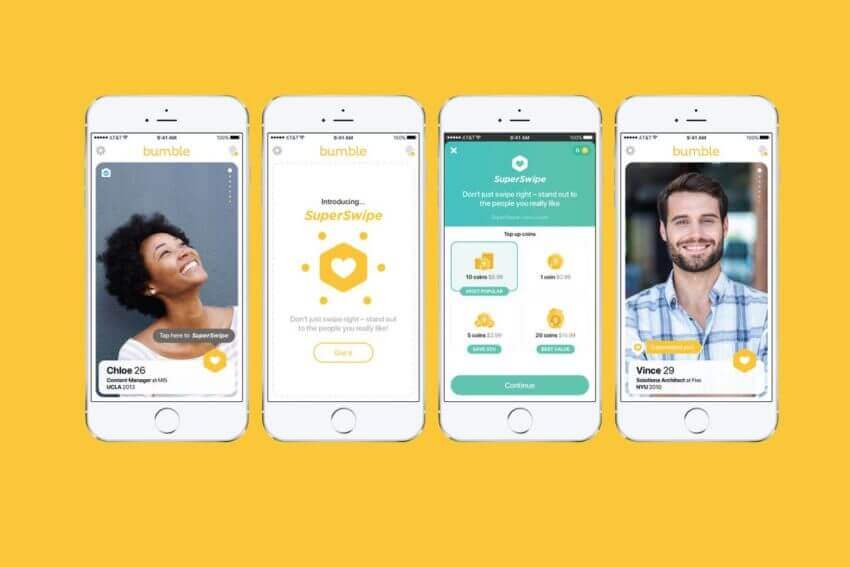 The dating app where women make the first move. The dating app template is very close to Tinder with its swiping and clear navigation. However, look at how the color changes perception. The yellow color doesn't make people start thinking about passionate relationships but provides associations with sunny happiness.
After considering different dating application designs, try to craft your own from scratch. It might be a really fun process, though if you'd like to make it faster or have any more questions, contact us at Fireart.Studio. We're always happy to implement another idea.
Final Thoughts
A dating app requires a very empathic and user-oriented design. In this article, we have considered the best tips and practices to creating a successful dating app design. Hopefully, they will inspire you to craft your own unique style and digital experience that will address your target user demands.
Are you, maybe, looking for an experienced UI/UX design agency to create an amazing dating app design? Fireart Studio is here to help you implement your ideas. Contact our experts at client@fireart.studio to get your project's estimate.
Update: