Your website is one of your business' greatest assets so there's no reason for you to put it on the backseat. It does not only attracts customers but also helps in converting leads into paying clients.
Aside from other marketing channels that bring traffic and sales, your web page should also be on your priority list as it represents you on the web. Therefore, make sure you have a working and responsive website no matter how many customers access it.
If you haven't given so much attention to your website, now is the time to do so. Start by planning a website redesign to optimize your online presence. But if you aren't sure why you should do a website redesign, here are 7 valid reasons to redesign your existing website.
Obsolete content and design
You've started your business website. But ever since you begin doing business online, you never had the chance to update and improve your online process from front-end to backend.
The products, which was sold out a year ago are still there. The old images are still displayed, and the overall appearance is out of fashion. If you are guilty of this, it's time to opt for website redesign services to help you get started.
There is no SEO optimization
You've invested a big portion of your budget on paid marketing. And now, you want to put your muscles on optimizing your website's SEO to minimize expenses as well as reap guarantee and long-term results out of it.
While it's possible, it could be daunting for you to successfully implement your SEO strategies without checking your website's current architecture. Take a look at the backend control, URL structure, and product information. Do they meet the SEO requirements? If not then you have to make a decision. If you're keen on doing SEO then start by doing a website redesign strategy for search engine's sake.
Low returns and high bounce rate
The traffic is low and the bounce rate is high. And, the conversion rate is almost close to zero. You have spent thousands of top-dollar on marketing but at the moment they land on your website, immediately they jump out. If this is the case, redesigning a website is the next thing you should do. Check your stats now. You can tell instantly which area of your website needs improvement.
The current design doesn't align with business objective anymore
You've started your website offering general products and services but after several months of refining your business, you decided to focus on specific markets and goals. In order to achieve real success in your endeavor, it's necessary to consider your buyer's behavior, attitude, demographics, and psychology in your website revamp.
It must meet your goals as well as your customer's so you could generate better returns and conversion in the future. For that case, there's no brainer you need a website redesign.
Website is not responsive
Assess your existing website. Can it handle the large traffic? Does it have the right technologies to do the work? You know it better than anyone else. If you can't answer straight yes to those questions, a website redesign is all you need. Make your website useful, responsive, and intuitive using the latest technology that will support its scalability.
It is built on a free or low-quality template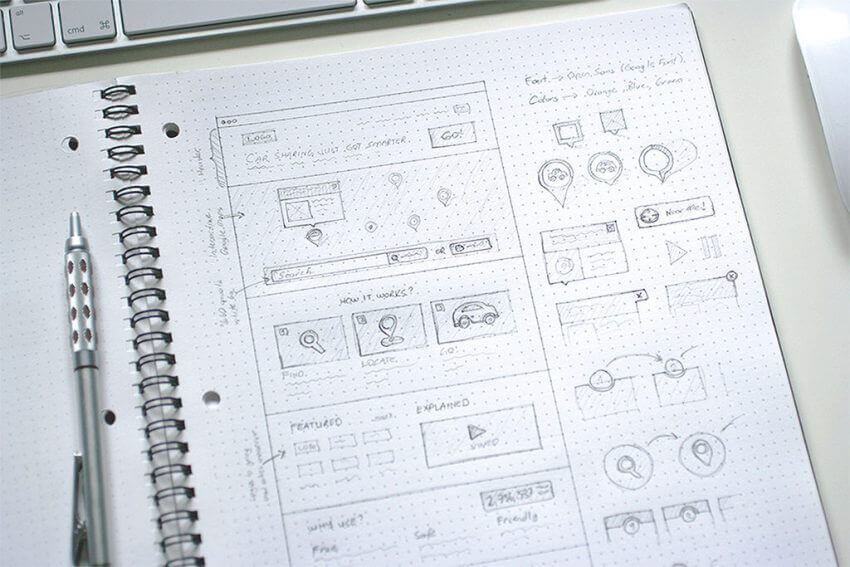 Most businesses utilize free or existing web templates to commence their business. But later on, they realize that it lacks features and solutions they need to scale their enterprise. If you want to have a unique branding, a distinctive image, and a special place in your customer's mind then using a custom website template is necessary.
You don't want to be regarded just like anyone else in the market because of using common templates found in the free marketplace. Design your website and start building a brand new and unique online presence.
The website isn't optimized for mobile
According to Statista, mobile users' population has grown to over 3.7 billion in 2018. If your website is not optimized for mobile then you are missing out.
Don't miss any opportunity. Your website should be compatible both for mobile and web to get the most results possible. But this doesn't mean you have to fit your site on a smaller screen. Give them the best UX ever. Make sure your website is responsive, compatible, and flawless when your customer reaches your page using their mobile phone.
How to redesign a website to make it convert
Now that you've already decided to redesign your website, here are practical tips you can implement to create a rocking appearance for your website.
Prioritize user experience
Above all else, always provide your customers with the best experience when they land your website. The seamless it is, the longer they will stay on your web page.
Keep it simple with few navigation options so your visitors won't feel overwhelmed during their stay. Use readable fonts, simple colors, and easy navigation so it would be easy for them to go through your funnel, which can eventually lead to a sale.
Dedicate a page for storytelling
Don't bore your visitors with technical and jargon terms. Keep them engaged. Allocate a space on your website where you'll tell about your company's story from the very beginning until to where you are today. What's unique about your business? How did you come up with that product? How does your offer change someone's life? Don't bore your readers with the features instead talk about the benefits of your product and how it can change their lives for the better.
Bring your customers on a journey and you'll get them to trust you even better. This way, your readers will feel they are recognized instead of being sold to all throughout their stay on your web page.
Add strong visual elements
A website with blocks of texts can bore your readers. So instead of staying on your website, they opt to jump to another web page where there are variety and context.
Therefore using images on your website is as important as writing good content. In fact, the visual appeal has a great influence on your visitor behavior. So it's necessary to choose the right images to include in each of your pages.
Usability researcher, Richard Nielsen, revealed that people ignore images that have no direct correlation to the web content. Filler images, for the sake of having images on the page, are disregarded. Therefore, it is important to choose only the images that have a relationship with your content.
Play with animation
Aside from images, you can also play with animation to grab your visitor's attention to hook them on your website. You can also use animated videos and GIFs to make your visuals more attractive. Apart from that, it helps you deliver your key points in a creative and much better way.
If you are telling a story, you are bringing the concept to life. If you are providing a solution, you helping your visitors to visualize the results. More importantly, it helps you relay your information with the right tone and semantics. So, if you are planning for your website redesign, don't forget the use of animations.
Don't forget the call-to-action
Last and not least, the call to action. This element is important in redesigning your website as it can make or break everything. Without an obvious and clear to action, you'll be missing a lot. The most common CTA's for businesses are Buy Now and Add to Cart. To make it profitable, always test the positioning and colors to get the best out of it. Moreover, place it in areas your customers can see immediately. If not, your sales will surely suffer.
How much does it cost to redesign a website
Planning to redesign your website but don't know the website redesign cost? Below is a website redesign estimation you can use as bases of your budget acquisition. The cost to redesign a website may vary depending on the goal.
Let say if you want to increase your sales conversion then it will require banner designs, programming, and project management. These in total may cost over $3000. On the other hand, if you want a full-website optimization for your business, which includes system planning, graphic designs, migration, programming, testing, and project management, it may cost more or less $20,000. It seems costly at first. But the thing is, if you delay your website redesign and invest in cheaper alternatives, it would be more costly for you in the long run.
You don't want that to happen. Make sure you invest in your website as it is your business's important asset. And the better it becomes design-wise, the greater it will give you returns in the long run. If you want to reap the rewards of web redesign, find a reliable, expert and professional designer to do the job for you. Do your website redesign and development now and see how far it will take your business. Call Fireart.Studio today!
Update: