In today's modern era, having a website is essential. This applies to both large and small businesses. The internet has made it easier for anyone to search for information online.
Customers may have the need to check what services or products you offer. A site is a way of providing information for customers. It gives your business so many ways of retaining and attracting new customers.
Advantages of designing a company website
Having a site makes it easier for your marketing team to make the most of every opportunity. The number of services offered online is increasing as well. In short, no matter the type or size of your business, you need to make a website.
Once you do it, you are creating more opportunities for your small e-commerce or travel business to succeed. Other benefits of building a site for your business include:
Effective method of advertising,
A cheaper way of advertising,
Convenient for customers,
Helping you to get more leads,
Can be easily accessed,
Increasing customer retention,
An effective way of keeping information,
Increasing your sales.
All these benefits should prompt you to create a site for your business. The question is how do you achieve this? The main goal is to build a site for your business. However, you have to remember that it has to be an amazing place for you to achieve the desired goals.
Once you decide to get an online presence, you have two options on how to carry this out. The first option is creating the site yourself. If you do not have any web design skills, you can use platforms such as WordPress or Shopify. WordPress comes with tools that make it easy for anyone to create a landing page.
The second option is to hire a graphic designer to create your site. Hiring a specialist means that you will have an amazing site. This is because they have more experience. At the end of the day, the decision comes down to you. You can choose a method that you are more comfortable with. Consulting professionals helps you to build a more responsive site. The price varies for different web design companies. However, if you outsource services, it could be way cheaper than the ones you hire in your city.
The cost of website design for a small business varies on the method you use. You can also use a template to create a custom business web page design. Professionals provide the best website designs for a small business.
Top 10 Things That Will Help You Create an Amazing Business Website Design
Before you move forward with the plan of creating one, you need to devise a strategy. When you do this, it will work as a guide and lead to an amazing site. Once you have your strategy you can then begin to create a site for your startup business. Here are some tips that will help you know how to design a company website.
1. Make easy navigation
A good business site design should be easy to navigate. Users should be able to move from one section of your website to another with ease. People opening your site should be able to search for content. You can do this by providing a search button. Create a navigation menu button. A good menu button helps customers to move from one section of your site to another.
2. Make sure it works on mobile devices
It is obvious that most people these days prefer using mobile devices to desktops. Many people use sites on their mobile devices. For example, a survey carried out in the Netherlands in 2017 shows that more than 45% of men use their mobile phones for internet banking.
Mobile devices are popular because they are easier to carry and use. People have become reliant on mobile devices. Advances in technology have to lead to the development of mobile devices with similar functions as desktops. This also includes surfing the internet. Because of this, you have to ensure that your site is mobile-friendly. Website designs lacking this feature usually have fewer visitors.
3. Add contact information
Users need access to your contact information in case they want to get more information. Place contact information at the top of your web page. Do this so that potential customers don't have to scroll the entire web page. This makes it easier for customers as they spend less time trying to find how to contact you.
You can place an email address, social media buttons, and phone number at the top of your webpage. Use these to provide a way for a client to communicate with you on social media platforms. Provide a contact form that users have to fill. The benefit of doing this is that you will get the contact details of prospective clients.
It is better to provide all your contact details on your website. When you do this you give customers the chance to use the most convenient method. This increases the likelihood that users would contact you for more business inquiries.
4. Use a simple design
The best way to avoid distractions on your site is by keeping the design simple. Use a simple theme with colors and fonts that make it easy to use your site. Avoid using way too contrasting colors as they will divert a customer's attention.
Additionally, avoid grammatical errors in your content. Add high-quality imagery to your content. Images make content more interesting for viewers so it is wise to use them. However, only use relevant images and do not clutter your site with too many images.
5. Provide accurate data
The main reason a business creates a site is to provide information to customers. When creating content, you should provide information that is relevant to customers. Before writing content always do in-depth research. Do this so that you can provide the best information for customers.
Providing wrong or misleading information can cause customers to use other services instead. It is advisable to use external links as well as internal links. External links guide customers to other websites. They help you to validate your content. Using trustworthy sites assures customers that the content you provide is accurate. Internal links will increase traffic to other web pages on your site.
Use imagery that is only related to the content. When writing content, make sure that you use paragraphs. This makes it easier for customers to read your content. Bullet lists also make a design more useful for customers.
6. Update frequently
Customers find it frustrating when a site takes longer to load. This can cause them to seek similar information elsewhere. To avoid this make sure that your site is running smoothly and loads fast. Always update your software. Do this so that you will not have to experience problems with loading speed.
Also, optimize videos and images so customers can easily view them. If you have any content that customers can download, ensure the downloading speed is good. You can also update content regularly. Updating your site helps you to add or change certain things as your business grows. Always check for any new trend so that your website can be up-to-date.
7. Make it accessible
Your site should be easy to find. It is pointless to create a beautiful design that can't be easily found. You can do this by using a domain name that makes your site easy to find. You can use your own domain or a professional one.
Your site has to be highly ranked in search engines for users to easily find you. That's where SEO optimization comes in. When a site is SEO optimized it increases the number of visitors.
Incorporate SEO optimization into your site design strategy. This is the best way of making sure that more people can find you when they search for information online. Another advantage of an SEO optimized site is that it increases traffic. Other benefits of SEO optimization include:
It is cost effective,
Improves branding,
Makes marketing easier,
Increases leads,
Increases sales.
8. Add a call-to-action
The purpose of your site is not only to provide information for customers. Whenever you use a call-to-action it helps you to clearly state your intentions. It also includes you directing customers to perform the desired action. This includes:
Signing up for a newsletter,
Downloading a white paper,
Buying products or services,
Providing contact information.
9. Make it unique
When creating a site design, make sure it is unique. This uniqueness will separate you from others in the same industry. Adding a personal touch is a way for you to further connect with customers. It is also a way for you to promote your brand.
10. Assure security
Cybercrime keeps on increasing with many collecting personal data of users. In India, the rate of cyber crimes increased and was more than 75% in 2017. This is a rise from 71% in 2016.
Users want to be assured that when they use your site they are secured from internet malware. Providing a secure site should be one of your priorities. Take measures to ensure that users have security when using your site.
5 Best Examples of Business Website Designs
Some of the most successful companies have very beautiful designs. These companies have the best practices for site design. Because of this, they are able to retain old customers and gain new ones. Here is a list of some of the best business designs. You can find inspiration from them on how to design a business website.
This tie business has a beautiful design that should inspire you. The company made sure they designed a simple site with good navigation. Customers can find information about what products are available and even a style guide. Visitors can find contact information at the end of the page. There is a call-to-action to subscribe to newsletters.
4pinesbeer is another business with a good layout. It is easy for visitors to find it when they search online. The design is simple and uses colors that are not contrasting. At the top of the web page, there is a logo. A call-to-action is placed on the first page. At the bottom of the web page, visitors can see contact information and they can also easily buy products with a payment system provided.
Nike is among the top most popular sports brands in the world. To match its reputation, Nike has a site that does it justice. Nike uses a simple theme with only two colors, white for the background and black for the font. High-quality images are placed across the site. This makes it more engaging for users. Nike has a menu button that makes it easy for visitors to navigate.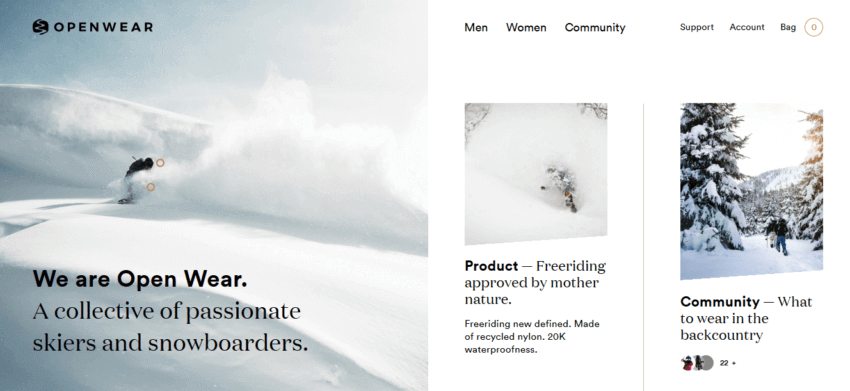 Open Wear is a business site that specializes in ski wear. The site is a great example because it is easy to navigate. The design is simple, with a white background. The images used are of a high-quality and provide insight into what customers need.
Beoplay site is very simple and yet has an amazing design with animation. It is easy to navigate and find products and services. At the top of the site, you can find the menu. Customers can click on the menu to find more information on the product. It also provides customer support to users. All the features make it a good example of a business site design.
Conclusion
Creating a site for your e-commerce business has many advantages. It helps you to reach out to more people. For your site to be responsive it has to be designed to suit your target audience.
A good strategy will help you to create a beautiful website design for your business. Use the above tips to make the perfect website design. Our company Fireart.Studio can help you to grow your business by creating modern layouts without any stress.
Update: