Motion graphics has become a new trend in UX design for websites in 2020. The companies across various industries strive to stand out on the web with a particular style and brand identity. Motion design is a perfect tool to make your business even more memorable and visible to your target audience. Once entering a website with a unique, stylish, and distinguishable animation, you can hardly forget it. Motion design catches an eye, draws your attention, and sticks to the memory. This is probably why so many market leaders choose motion graphics as a pinch of the right spices for their online identities in recent years.
Would you like to learn how motion graphic designers can help your website look like a shining diamond in the crowded digital world, full of competitors and repetitive designs? Or are you, maybe, wondering how you can use it to grow your brand awareness and multiply sales from your online store? We are here to help you navigate these questions. Enjoy the top animation types and motion graphics templates provided by Fireart for you.
The Main Functions of Motion Graphics in Web Design
State Change
It is one of the most popular types of animation in web design. It shows that a UI element changes its shape, color, or generates a sound when users hover over it. The innovation-thinking graphic design companies recommend using this technique to make your website design even more interactive, interesting, and eye-catching. Moreover, it helps provide softer and visually more pleasant transitions.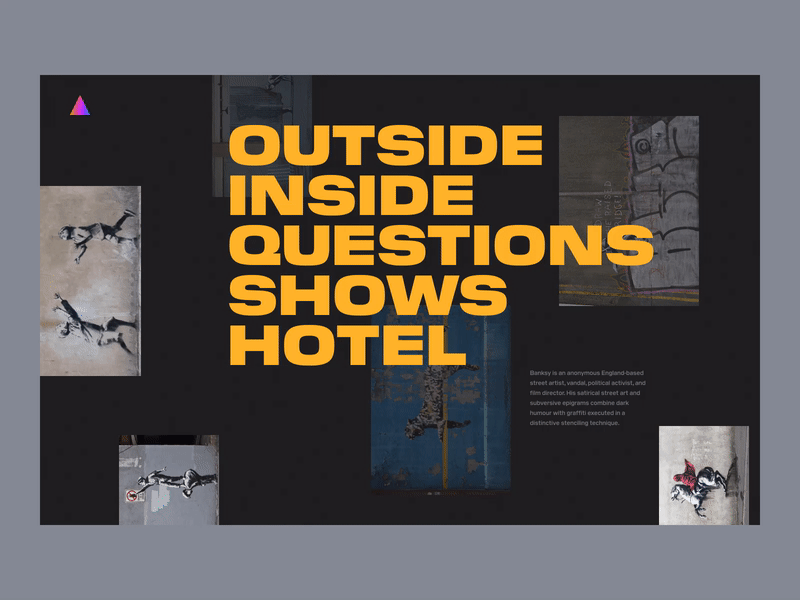 Emphasis
This kind of website animation helps you draw the user's attention to specific content or some particular areas in a user interface design. It's very helpful when you need to emphasize important information in a text copy on a web page, encourage the user to take certain actions (for example, using an animated call-to-action phrase or button), or motivate the user to stay on a website and continue an online journey with your brand. 
Reveal
This type of web animation allows you to unload the user's mind when interacting with a website by hiding some information on a side panel or at the bottom. The user can easily access it by hovering or clicking on a specific UI element that makes this information visible again as if by magic.
Top 3 Most Amazing Types of Website Animation
Semantic animation
Semantic animation is based on a cognitive model that implies that we often can't perceive dynamic objects interacting with each other as separate units. We rather see them as one whole bringing together its different parts.
Semantic animation may be a perfect addition to your digital product and enrich the user experience with new amazing feelings when scrolling a web page or hovering over some design elements. In our humble opinion, the overall motion design on a website looks the most amazing and impressive if its separate elements, smaller animations interact with each other and reveal themselves as a single dynamic unity. It creates an exciting feeling like you, as a website user, interact with another alive being. Meteor Toys is a great example of semantic animation in action.
Parallax
This animation is based on a principle of website-scrolling and describes different interface elements moving at different rates. This design effect makes it easier for your brain to recognize what is the most important, key content, and what is the supportive one. The elements in the foreground seem to be visually closer to us and move faster than those on the background. 
The objects on the second plan are recognized by our mind as less essential, however, they can amazingly add to a visual appeal of your website. They often make a web design look airier, lighter, and more pleasant. They create a feeling of magic and innovation. So, we recommend experimenting with parallax animation on your website since it can instill positive associations with your brand in the online world.
Dolly and Zoom
This animation technique has come to us from the movies. It is usually displayed as a smooth transition of the image, changing from a long shot to a close-up, or vice versa. In order not to overwhelm you with long explanations of its sub-types, we have provided this example below. Here you can see the most popular animation practices used in web design.
Make UX Magic by Incorporating Motion Graphics into Website Design
We are happy to introduce these motion graphics examples created by our studio and many other talented motion graphic designers from around the globe. If crafted masterfully and applied wisely, animation can help you guide users throughout a whole online journey on your website and motivate them to take the desired actions, such as "sign up," "buy," or "read more." 
It creates a lasting impression and helps a brand stand out in the digital world and outperform other companies in continuous online competition, acquire new customers, and retain the existing ones. 
At Fireart Studio, we hope that these insights about motion graphics in web design will inspire you to add more innovation and freshness to your online business presence.