Web design should not only be focused on just getting a particular product to the mouse holder. All internet users have their own unique tastes. A feature that a particular group or individuals fined thought provoking may be totally neglected by another group or individual.
How can this problem be avoided? This is the role of ground rules. Many designers agree that certain features can work for any site. A page that is simple and easy to navigate will get a more positive reaction if it has a great design and part of this design is evidently the Website Header.
Web header design should be, therefore, taken very seriously. This will help business, startups, and simply customers avoid joining the many other poorly designed sites.
8 Tips on How to Create a Website Header for Your Service
A business site should be focused on getting one thing right – making a good first impression. Because your web-header will be possible the first thing that catches the eye of the internet user, taking time to perfect its appearance is very important.
Another point that is very important to keep in mind is the pages our audiences may be visiting. Some businesses only focus on their homepage and neglect other pages and the design. It is not advisable to do this because some users do not directly go to the Homepage.
The only way around this problem is to put a lot of design effort in all your pages. So how to make a website header design that will wow your users? Here are a few ways to become a master at website header designs:
1. Use clear images
As mentioned earlier, a good first impression can go a long way. Nowadays, the header can not only include images but other visuals such as video or animation.
The idea is pretty much the same: the better your images are presented, the better the chances of a great response from your audience. You can take your images from a third party or choose to make them yourself. Your major goal should be finding the best one(s) possible. It is advisable to look for inspiration from other examples.
2. Add the best and up-to-date navigation features
Navigation features are among the most important parts of a web page header design. Other features include:
Business logo,
Your call to action button,
Headlines and other important text,
Search.
The features mentioned concretely relates the navigation and the web-header as a single unit. Navigation elements come in many forms and although you have to find the best kind for your business, much emphasis is put on just finding any.
The results of these features cannot be predicted. In most cases, businesses are not aware that the small features (such as icons) play a very big role in helping their audiences that navigate the site. Visitors who are satisfied with the UX are more likely to continue doing business with you.
3. Make sure your navigation is clean
Staying up to date with the latest trends in navigation can be very helpful. However, when it comes to incorporating these features into the final product, less can be more.
In the attempt to make your header more informative, you might add many navigation features which may make your page less attractive to your audience. A lot of sites with a lot of content start using drop-down menus. The advantage of using drop-down menus is that it will enable you to put all your content on your webpage while keeping it tidy.
4. Pay a lot of attention to the main message
Every business has a primary focus. All efforts must be targeted at fulfilling the primary objective and this should be kept in mind when making a website header design for their business.
This point highlights the fact that impressive images alone will not make your web-header look professional and attract many users. It will help you in communicating well with your potential clients.
Your audience is supposed to understand what your business is about. Many businesses tend to forget this and don't communicate well with their audience.
5. Do not underestimate the power of typography
One of the best ways to put emphasis on something is to make it more prominent. In a similar fashion, when it comes to the typography, never be too afraid to go big.
Using larger characters will definitely catch the attention of anyone who visits your service page. Be careful not to overdo it, because that can happen. Stick to the two main positions of typed content, these are:
Eccentrically typed content should be only added to the homage.
Other pages should have more simple typography that would still be eye-catching but not look exaggerated.
6. Adding a clickable feature is a great idea
Asking yourself if more features should be added to your site header means you have already figured the images and navigation out. Placing a call-to-action is also a good idea. In this way, you can enable your visitors to take specific actions without having to scroll to another part of the page.
It is a common practice to add an email address collecting form. Many businesses also put the "Add to cart" button to their web page header. Remember the minimalistic rule to avoid confusing visitors with too many features.
7. Do not use complex layers
Layering is the best way to put all the features together and see if they work well. The best web-header design uses simple layers.
A layer is added to direct the focus of visitors to particular information. Because the layer is such an important element of the web-header, it should be well incorporated into the design.
Many businesses take time to get it right. That is why several designs have to be tested before settling for the final design. You can make A/B testing before initial display and try to optimize the layout if needed.
8. Test it on a smaller screen
Remember that not everyone will be able to make access to your site with a computer. Technology has made it possible for people to go online by using much smaller mobile devices.
That being said, make sure you create a great block that will not only look cool and beautiful on computers but also on smartphones and tablets as well. Multiple tests should be done before you can finally make the it accessible to different people.
12 Best Examples of Website Header Design
In order to get the full picture, it is not only important to know what works. Seeing the results of the process from real-life examples is important.
Take your time to look for the website header design inspiration by checking multiple successful examples. By doing this, you will actually have a better understanding and will know which direction to take in the development. Here are some of the best website header examples:
This example clearly shows why focusing on the main purpose of the business is effective. Visitors clearly know what the seller is offering. Everything in the web-header has been strategically placed to enable this.
Using a combination of a neat navigation and images with well-balanced colors will definitely enhance the appearance of your web-header and draw more people to it. Your page will always be considered high quality and with this comes the loyalty from your customers and more success.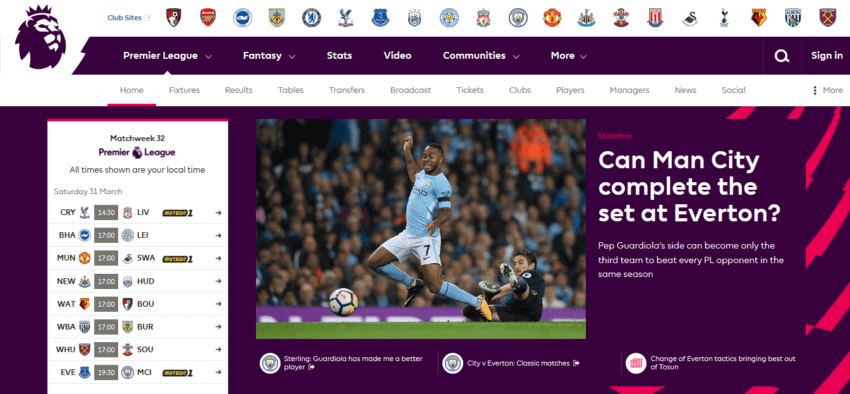 Some websites are designed to contain a lot of content. For the above example, it is advisable to minimize the size of the typography to make room for other important content.
When it comes to choosing the right image, things can get quite tricky, especially, when looking for a human model to represent the brand. In these cases, it is important to choose an individual to whom the internet user can relate to. This familiarity can make the place popular among a big group of individuals.
When making a creative block for a business that sells a particular product or service, it always important to go through several logo designs before choosing one that best captures and suits the role of the business being run.
Companies such as TIFFANY & Co put a lot of value in their products; this in turn means that they have to go an extra mile to impress their audience. An eye catching and creative header will help ensure that customers keep returning to the site for more.
Some businesses like to add a lot of pictures. This can be successfully done with the help of a picture carousel. A picture carousel offers the opportunity to showcase everything that is good about your business visually. It can be considered a simple sum up of exactly what your business offers to possible customers
Keeping your header simple is the best way of ensuring that your customers don't confuse the main idea of your business with something else. It also guarantees that they will not have any problem finding their way through your website as a whole. Another eye-catching feature can be the incorporation of animation in the web-header as shown above.
A great block should have the ability to convince the visitor of the capabilities of the business with having to make use of so much typed content. In most cases, the company name and a brief two-line description are required to give visitors an idea.
It is advised to use the minimal design concept 99% of times. However, there are some situations which permit breaking this law.
Some designers have actually found a great way of incorporating artistic work. The ability to do this is very rare and can only be pulled off by individuals who know exactly what they are doing.
A great block can invite multiple audiences and later take them on a journey through your service pages. This first impression will determine whether they remain loyal clients or not.
As mentioned earlier, many companies are beginning to use the concept of animation as an additional feature to turn more heads their way. In this example, you can clearly see the use of this tool to highlight the overall services provided by the business.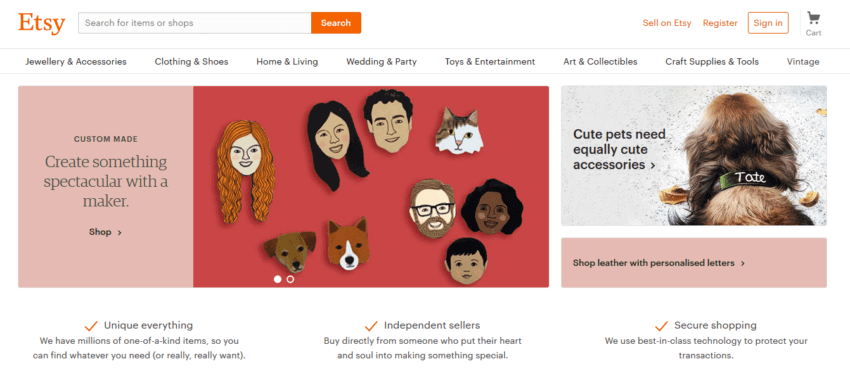 Some products and services pages are successful because the banner designs adopted are rather simple. When the Etsy platform is visited, you will notice that this is a spot that has a lot of content on it. However, the the present strip at the top of site is simple and straightforward.
Designing Awesome Headers
In order to run a successful business online, you need a good web presence. This means investing in the right tools to enable you to do so. You will need to focus not only on functionality but appearance as well. And that is where a site header comes in.
The best header design for a website has to be developed with the primary functions in mind. These work as guidelines through this very crucial process. Doing enough research will help you understand how they function and what you accomplish by using them on your webpage.
Because you might be new at this, it is recommended to give your project to professional designers to create a header for a website. Our company specializes in offering such services to various businesses looking to expand their online audience. We incorporate some of the best website header ideas with the visions of their clients and see the businesses do exceptionally well in various competitive markets.
Update: