A great website has numerous qualities that come together to produce a great design. A lot of entrepreneurs are beginning to realize the role web design is playing in getting them more attention. This has led to more businesses investing in e-commerce, which has significantly grown over the past decade. A recent statistic revealed that there are about 3.5 billion internet users globally. This statistic means that business owners can get to more people.
In order to do so, it is important to have a professional website layout design. Why is the site layout design important? We will address this and look at how you can effectively implement it in your business.
Importance of an effective website layout design
Many business owners fail to acknowledge the role played by an effective design layout. A lot of people are using the internet to look for various goods and services. When these individuals look at several websites on the internet they usually pick the ones that are well designed.
Let us look at brick and mortar stores as an example. When you look at a store, you first notice its appearance. This includes the colors used, how neat the store is and how easy you can find your way around in it.
The same goes for websites. Remember that you are trying to make a good first impression. Having a layout that discourages your buyers can hurt your business even if your goods or services are desirable. Keep this in mind when you design your website layout.
It is also important to have features that will make your website popular among internet users. Every website layout should have the following features:
Very easy to navigate around;
The layout should be simple and tidy;
Try to stay current with all the popular trends and technology;
The layout should look good on all browsers and software;
The number of mobile device users has also seen a dramatic increase, so make sure your layout also looks good on such devices.
The above points are just a few of many that make up a good website layout. Now let's look at how you can make your website stand out from your competitors.
10 tips on how to design a website layout that works
It is fairly common for designers to make several mistakes in the website layout. Some of these mistakes don't seem too big. But, they can make a huge difference in your design process.
Every professional designer working for an agency is supposed to be familiar with the best website layout design practices currently trending. The more familiar you are at how to design the layout of a website, the better your website will be.
1. Try to define what you are trying to create
This is the most important step in the designing process. You have to understand why you want to create the website and what purpose it will serve for you and your audience.
You design to solve a particular problem, make sure you know which problem you are going to solve. This will help you figure out various ways you can solve this issue.
If you are a designer working for a client, make sure you ask as many questions as possible to understand what they are looking for on their website.
2. Write all your ideas on paper
Although this is a pretty simple idea, it is also one that always works well. Writing down your plans will serve as a map that you can use during the entire process.
Make sure you write down every single component you would like to add to your design. You can then try to make a connection between these and try to imagine how well they will work together.
You can make some changes down the road if you feel certain components will fit your overall design better.
3. Sketch the layout
This step pays a lot of attention to UI. Your framework simply deals with the various UI features that will enable visitors to accomplish certain actions on your website.
By making various sketches, you will be able to identify which feature may or may not work. The sketches may help you come up with several mock-ups of your layout.
4. Include a grid to your design
Some designers fail to see the value of a grid due to its simplicity. A design that does not have a grid will not be as effective as one that has.
A grid can be used to structure your design. This feature is important because it allows the designer to know how their design can work on different sized devices. You will also be able to make responsive templates for your website by using this simple tool.
5. Make sure typed content is perfect
Another important feature of your website's layout is typography. Explore as many as you can before you come up with a specific typeface.
When you are considering different fonts and colors, make sure you account for the readability before making a final pick. You can be more creative with the wording in the titles and certain call-to-action alerts on your website.
6. Choosing the best color scheme
Many companies have almost become synonymous with the colors they use on their websites. For example, blue comes to mind when you think about Facebook. Try to experiment with as many colors as you can before deciding to go with one.
Remember that the colors you pick for the background and typed content will determine the readability. For maximum readability, a lot of websites use black words on a white background. Do not be afraid to use a mix of different colors for the graphics; just make sure that they complement the main scheme.
7. Break the layout down
Users usually spend more time on sites that are simple to navigate through. Make sure that every part of your website has a distinct role. In other words, the layout is supposed to clearly show the user which information they should focus on.
Every individual component on your website should help the user figure out what they can do on your website. Breaking down the layout this way gives your site a purpose that is not easy to miss by your audience.
8. Try to give certain established design patterns a second look
A lot of experts add what is trending to their designs without a second thought. Although certain components are popular and work, a designer should always think twice about the significance of certain trends.
In addition to evaluating some of these patterns, designers can also make modifications. This can make the certain features more helpful to website visitors.
9. Create several prototypes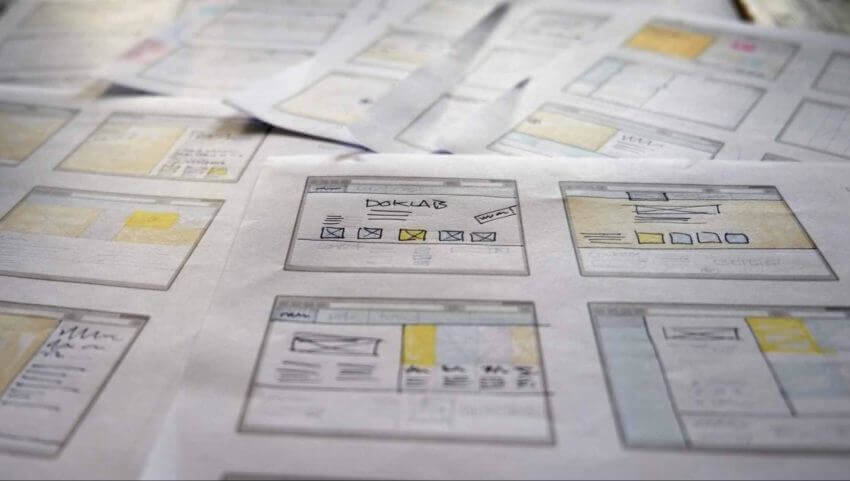 One of the most important parts of building a site is seeing how the general public will interact with it. This is where prototyping comes in. Today's technology has made it easy for a designer to test their prototypes and see how users react to them.
Prototyping will further enable you to make the necessary tweaks to your design before you launch the website. Prototyping also helps website designers get their ideas to users without having to do any complicated explanations or tutorials.
10. Details, details, details
Every single component of a website layout has been designed for a purpose. If you choose to include something extra in your layout, make sure you pay attention to how it will relate to the other components.
The smallest details have the capabilities of making an impact on the overall experience a user has with your interface. Pay attention to all the details in your website layout, this will come naturally, especially, if you are fond of what you are doing.
Top website design layout examples
One of the most important parts of designing is looking at what is trending and trying to put it to use. Although authenticity is important, sometimes, it is better to look at patterns that will work well for your website.
Let's look at the application of some of the best website design layout ideas. You can get inspiration from a few of these examples when building your own site.
Index Studio is a France based site studio that specializes in providing art and film directors and other services for their clients.
Their website is pretty basic. The amount of content has been kept to the minimum. This means visitors will not have a hard time trying to figure out what they are looking for on the site.
The NINX site put color to good use, allowing information to be conveyed easily. The website is interactive as well which is a good feature, especially, when considering the effectiveness of the user interface.
You can also see the use of modern technology in the 3D designs that can be seen in the layout. Sound is an important feature of this site and it has been kept as clear as possible.
The Wanderer is a good example of a responsive website with a clean design. This website has great navigation giving the users a story-like experience.
We should also look at the importance of pictures in the layout. This website uses high definition pictures which work well with the navigation, leading to an impressive web experience.
This site provides furnishing for windows. The website says a lot about this business. The first thing you will notice is the use of amazing colorful images.
The layout also comes with a high-resolution video which is becoming more popular with web designers. The website comes with simple but responsive navigation that enables visitors to easily get to where they want to go.
The Plateau Agency is an innovative company that aims to bring modern technology into the brands of their clients. Therefore, you will have to expect the use of impressive features in its layout.
One of the most obvious properties of the design is the use of a horizontal layout. Another unique feature is the navigation, which works well and is quite unusual.
This is a website that focuses on interior design and the creation of amazing spaces. The layout is a pretty basic design and tries to keep content to a minimum. The use of animation and video also complements the website by fitting in naturally.
Carl Edmond is created for individuals who value fashion. It has a flat design which is complemented by responsive navigation.
One of the important components of a website such as this one is the imagery. You will notice the images have been well selected and match the main theme of the site.
This company adds a touch of art to the production of lighters. In order to showcase their incredible efforts, they created a website to match their products.
The site is clean and does not use a lot of content to showcase the product. A few high-quality images are enough to show the user that they can provide a great product experience.
Conclusion
Your business clearly means a lot to you. You are willing to give it your all and expand it as much as you can. Luckily the internet has increased this possibility.
At this point, the only thing standing in your way is the possibility of creating a site that will not do your business justice. To avoid this, you need to put a lot of effort into the design; this not only includes the knowledge but the cost as well. This can then be used to help you get to your target.
We at Fireart.Studio can help you get the site your business deserves. Our team of expert designers is ready to work with you whenever you are ready!
Update: